All Kinds of Happy Music!
"Cleveland's Original Polka Happy Hour."We play traditional style Slovenian, Polish, German, Polkas, Waltzes, Big Band, Standards, Dixieland, Latin, Country, Rock and Roll...we play it all! :)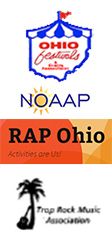 Also a member of:

Duffy O'Neill
2218 Warren Rd.
Lakewood, OH  44107
Without a doubt the finest musicians you can find, rolled into a fun loving band of troubadours !!!

Formed in 2005, we have evolved into one of Cleveland's finest dance bands, and without a doubt, a crowd favorite.

Cuyahoga County Oktoberfest, Annual Thanksgiving Festival at Downtown Marriott, Monthly regular gigs at Brothers Lounge and the Parma Moose, MDA Fundraiser yearly at German Central. Lakeside, Geneva-on-the-Lake, Community Festivals, Senior Centers, Ethnic halls and private functions - Seeing Really is Believing !!!
A crowd favorite fun-time band!! All styles of Polkas and Waltzes, Standards, Big Band, Country, Irish and even a little Rock and Roll !!! Playing throughout Northeast Ohio, Western Pa., Michigan, Indiana and Canada.

Fun times and great memories. We have the best fans and friends a band could have. We ALL have a great time at every event. Come join us soon.
BEING THE BEST POLKA BAND IN THE WORLD !!!!! (AT LEAST THE MOST FUN :)
The Chardon Polka Band, all the great Cleveland Polka Bands !!!!