All Kinds of Happy Music!
"Cleveland's Original Polka Happy Hour."We play traditional style Slovenian, Polish, German, Polkas, Waltzes, Big Band, Standards, Dixieland, Latin, Country, Rock and Roll...we play it all! :)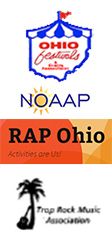 Also a member of:

Duffy O'Neill
2218 Warren Rd.
Lakewood, OH  44107
We'd love to hear from you. Contact us by filling out the form below. Please type in your name and e-mail address to be sure your feedback will be sent.