All Kinds of Happy Music!
"Cleveland's Original Polka Happy Hour."We play traditional style Slovenian, Polish, German, Polkas, Waltzes, Big Band, Standards, Dixieland, Latin, Country, Rock and Roll...we play it all! :)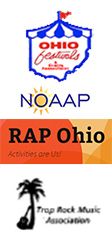 Also a member of:

Duffy O'Neill
2218 Warren Rd.
Lakewood, OH  44107
THE POLKA PIRATES
Duffy O'Neill founded

The Polka Pirates

in 2005 and the band has since set the Cleveland Polka scene on fire. 

We are a crowd favorite, fun-time band that plays all styles of Polkas, Waltzes, Standards, Big Band, Country, Irish and even a little Rock and Roll!!! Playing throughout Northeast Ohio, Western Pennsylvania, Michigan, Indiana, Florida, and Canada. We love our fans and EVERYONE has a great time at every event. Come join us soon and "GET HOOKED!"

 

Duffy O'Neill, The Polka Pirates leader and business manager, remains active in the Slovenian community. He is former President and board member of Recher Hall, member of the Slovenian Radio Club, and Trustee & Executive Board Member of the National Cleveland-Style Polka Hall of Fame. Duffy plays banjor, guitar, bass, accordion, and trumpet.

 

Andy Hudak (Duffy's "Slovak cousin") joined the band early-on and remains a group mainstay. The National Cleveland-Style Polka Hall of Fame nominated Andy for Sideman of the Year 2012.

 

Tom Mroczka, a lifelong music educator and an Ohio State Marching Band alumni, plays with passion, style, and flair. That, along with his Polish vocals, adds a dimension to the band that makes it truly stand out.

 

Julie Tabaj has been sitting-in and helping-out the band for a few years now. A gifted musician, Julie plays trumpet, saxophone, and button accordion. She also does vocals.

 

Frank Loucka one of the original band members, enhances our sound with his outstanding button box and piano playing. A former Fairport Jammer, Frank brings enthusiasm, musicianship, and friendship to the band. It's always fun when Frank is in the mix!

 

Denis Malnar, "The Croation Sensation," is the youngest member of the group. His incredible musicianship gives the band a distinctive flair. 

 

Bill Walters, bass player, and crowd favorite, is part of the rhythm section that makes the band dynamic and unique.

 

Cris Kocin is the "new kid." His versatility on the piano and button accordions adds a great dimension to the overall sound. 

 

Ray Blaha is the other half of the rhythm section, playing drums. He is often referred to as "The Fifth Beatle."